33 Brams Hill Drive Mahwah NJ Rio Vista
The crown jewel of Rio Vista! 33 Brams Hill Drive Mahwah is a breathtaking palatial chateau and a modern-day castle. The perfect balance of yin and yang energies make this 20,000+ sf palace not only an entertainer's dream, but a very warm and inviting home, as well. The love and passion in the architecture and design abounds. Ten years of fortress-like construction, perched proudly on the choicest and only gated lot in Rio Vista, was completed just two years ago. The fortress is perched proudly upon its 2-acre lot.
The mansion's premium construction consists of structural steel and reinforced concrete and entirely of granite stone, inside and out, including exterior walls, surrounds, balconies, balusters and floors. The home will stand true for centuries to come and its residents will marvel at a myriad of enchanting details with each passing day.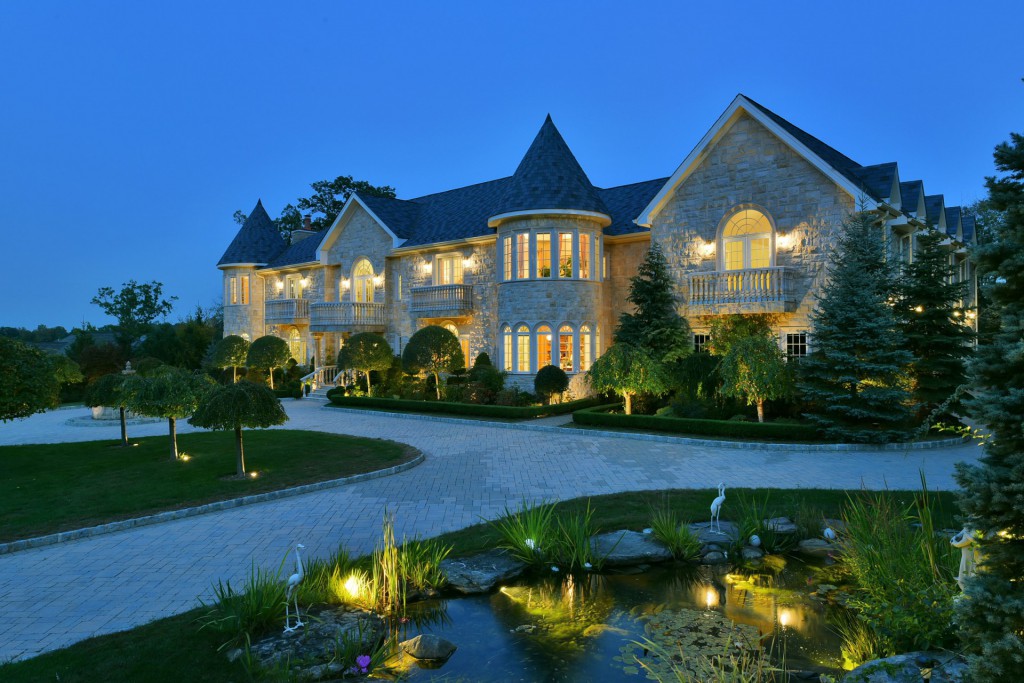 The spectacular entrance boasts a 24-foot ceiling and a magnificent 16-foot wide octagonal skylight adorning the center of the 1,500 sf room and illuminating by day or night skies, marrying wide open spaces, making it the ultimate setting for formal entertaining. Exquisite pocket doors surround the kitchen areas or disappear for an open, easy flow. You'll find high ceilings and tall doors/doorways throughout the home.
Five of the seven bedrooms are full suites with their own showers, Jacuzzi tubs and private balconies.
Radiant heat and central air with ample zones provide customized temps in each room of the house. A total of eight fireplaces (wood-burning and gas) are found in the bedrooms, library, family room and upper and lower living rooms.
This spectacular home boasts a three-story elevator, five-car heated garage, a very large attic with high ceilings adds thousands of additional square feet of storage or finish for children's playrooms or whatever your heart desires.
The walk-out lower level can accommodate very large parties, as well. Enjoy a winter's eve fireside in the lower level's oversized family room. Relax at the twelve stool bar and large game room. Other facets of this level include a full kitchen that leads to the walk-out, covered patio, separate spa area with eight-person hot tub, massage room, full bath and a separate room for a sauna. There are also bonus rooms for a large media room (pre-wired), large storage space behind the bar area that could be a showpiece wine room & humidor.
Each time you enter a room in this jewel of a home, you'll be pleasantly surprised with exquisite details you hadn't experienced prior, making your appreciation for its attention to detail, astounding design and wonderful balance grow with every passing hour. Every room in the home has wonderful, serene views. One can't help but be awe-struck by the museum-quality, abundance of natural light and the calming, creative use of many outdoor elements transitioned throughout the interior of the home.
Call for price update.  This is an exceptional value for a very exceptional & distinctive property.
Speak with Brian Morgenweck today and schedule a private showing at 33 Brams Hill Drive Mahwah. You'll want to spend a few hours to fall in love and experience all that is the Chateau on Brams Hill.
Reach Brian directly @ (201)489-3020 or BMorgenweck@gmail.com
Click to see more of what makes 33 Brams Hill Drive Mahwah truly incomparable!
See the spectacular slideshow >>> Happy Holidays from Brams Hill Drive in Mahwah's Rio Vista!