Don't shoot yourself in the foot with that low-ball offer!
I get it. Ideally, you want the home of your dreams with everything on your 30-point wish list & you want the deal of the decade. Hey, it's normal to want a great deal & buyers certainly don't want to over pay for a home. Here's the reality: We're seeing inventories shrink in most areas, so homes for sale are in a more limited supply while buyers are actively seeking those homes. This naturally creates more demand for the available inventory, shorter market times & in many cases, multiple-offer scenarios. (Don't think of them as bidding "wars". That's a naturally off-putting term. It's just a function of a competitive market. If you're involved in a multiple offer situation, just take a deep breath and consider it an affirmation that others share your good taste in real estate!)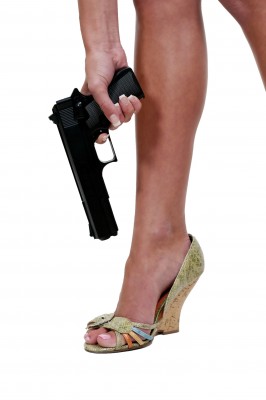 Here's a pearl for you: There's no secret society of real estate agents who meet in back rooms to tabulate home prices that are "more than fair"…whereby we figure out what's fair and want to charge you a lot more. Again, there's a market system intact. Don't assume that all homes are automatically priced with 20+% "padding". Your agent should be able to give you a market data-based range of where the home should sell, much like the listing agent did for the seller when they decided upon an asking price. Some homes may have a little room in the price, while others may be priced more aggressively. Analyze each on a case-by-case basis. With that in mind, here a few things to consider before deciding to make that low-ball offer.
Assuming you're serious about buying a home, you're actively looking & you're prepared when you see a home that really speaks to you…be realistic if your goal is to actually own that home. Beware of making that low-ball offer.
Be mindful of your audience, aka the seller. They've most likely done their homework as to a realistic price, if they're serious about selling. You don't want to come in with an offer that they won't even consider in the ballpark of reality. You shouldn't start a conversation with an  insult, which may leave them hesitant to even counter, should they consider it so frivolous. Here's what may very well happen.
Keeping in mind that you really like the home in the first place, it shows well, the location & condition meet with your approval and most of the items on that extensive wish-list of yours are satisfied. Remember the increasing demand we talked about and the likelihood that there may just be other buyers who could see themselves enjoying life under that very same roof. Your low-ball offer might just set the price bar a bit lower for the seller, making another buyer's offer (somewhat higher than yours) look much better than it otherwise would have.
It's a big risk being the easy number to beat. It's likely self-sabotage whereby you may be setting yourself up to fail.
Here's something else to keep in mind. Rather than take a severe nose-dive in price, a seller would be far more inclined to reduce the price incrementally. If they don't have other offers on the table, they'll likely have one soon enough at a higher, more palatable amount than a low-ball offer.
The "market value" usually happens somewhere north of a buyer's dream number & south of what a seller would be overjoyed to accept. That's a competitive market & effective negotiations at play.  It's likely you may have to adjust your numbers, if possible…or your expectations in a specific price-point…& quite possibly, a little of both.
If you feel compelled to make a low-ball offer, you should be aware of the risks involved.
If you have questions about buying or selling a home in Bergen County, just call me at (201) 489-3020.
~Brian Morgenweck  Broker/Owner of Power Realty Group