Brian Morgenweck
Meet James Fenimore
Born and raised in Morris Plains, New Jersey, James Fenimore has been a resident of  Morris County for nearly his entire life, making him a true expert in the area.  As an undergraduate at the University of Delaware, James earned a Bachelor of Arts degree in Economics and went on to begin a career in the insurance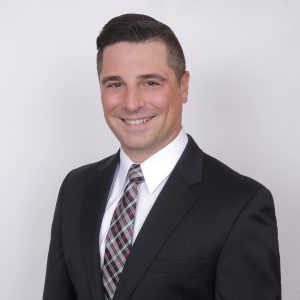 industry shortly after graduation.  
This is where James got his first taste of sales and found that he had considerable talent in the area.  In his first month selling with Bankers Life and Casualty Company, James was recognized as being in the top five of new agents in the Northeast region, from Maine to Maryland, for total sales.  While successfully racking up the numbers, his experience here taught him a very valuable lesson; money can't buy happiness.  
James began to refocus himself to pursue a career that was more fulfilling, one where he was able to help others, which is what drives him.  James began volunteering as a youth league ice hockey coach, spending seven years with the Morristown Junior Colonials.  He also spent one year as head coach of a New Jersey Freeze travel team and two years as an Assistant Coach for the Morristown High School Colonials.  In his last year as an Assistant Coach, he was able to help lead his team to win their first State Playoff game in over a decade.  It was through his work as a hockey coach that he discovered a talent for working face to face with others and sharing his knowledge.  
This inspired James to earn a Masters Degree in Elementary Education from Seton Hall University, where he graduated with high honors and began a career as an educator.  He has spent the last fifteen years working hard to provide the youth of our communities with the highest quality instruction and helping them create opportunities to better their own lives. While teaching second grade at Lakeview Elementary School in Denville, New Jersey, James began his studies to earn his Educational Specialist degree and his administrative certificate.  
Most recently, James served as an Assistant Principal in two elementary schools in Morristown, New Jersey.  James saw an opportunity to begin helping people in other areas and earned his Real Estate License in the summer of 2018.  He began his Real Estate career with Weichert Realtors and is now very excited to "up his game" and join Power Realty Group.
James still resides in Morris Plains with his beautiful wife and son. He has an in-depth knowledge of the area and the inside scoop on the school systems with all that it takes to work tirelessly in helping you and your family find your forever home.
Reach out to Jim directly at (973) 896-4789 or email him at JFenimorePRG@gmail.com
Broker's note from Brian Morgenweck
I've always seen the brokerage side of real estate as a business of teaching and caring for those in your charge, your clients… edifying them, keeping them out of harm's way and safely guiding them to the realization of their goals. I'm happy to welcome James Fenimore to my hand-picked team of agents. I know Jim will be a big asset to our brand, our culture of helping others and most importantly, our clients. I often say that we, as individuals, are not only the sum total, but a synergy of all that we've done and concentrated on leading us to the current point in our lives. Successful in sales and marketing, coaching, caring, teaching and guiding… James Fenimore has all it takes and we welcome him to the synergy of the Power Realty Group team, where "The whole is greater than the sum of its parts". (Having been an avid ice hockey player myself many moons ago and for many years, I think that part of Jim's journey is pretty cool, as well. For Jim, myself and the team, it's a hat-trick!)
---